---
The city Sant'alessio Siculo
---
Elevation - 10 mt
Distance from Messina - 35 Km
Distance from Catania Airport - 71 Km
Distance from Taormina - 8 Km
Population (2011): 1,536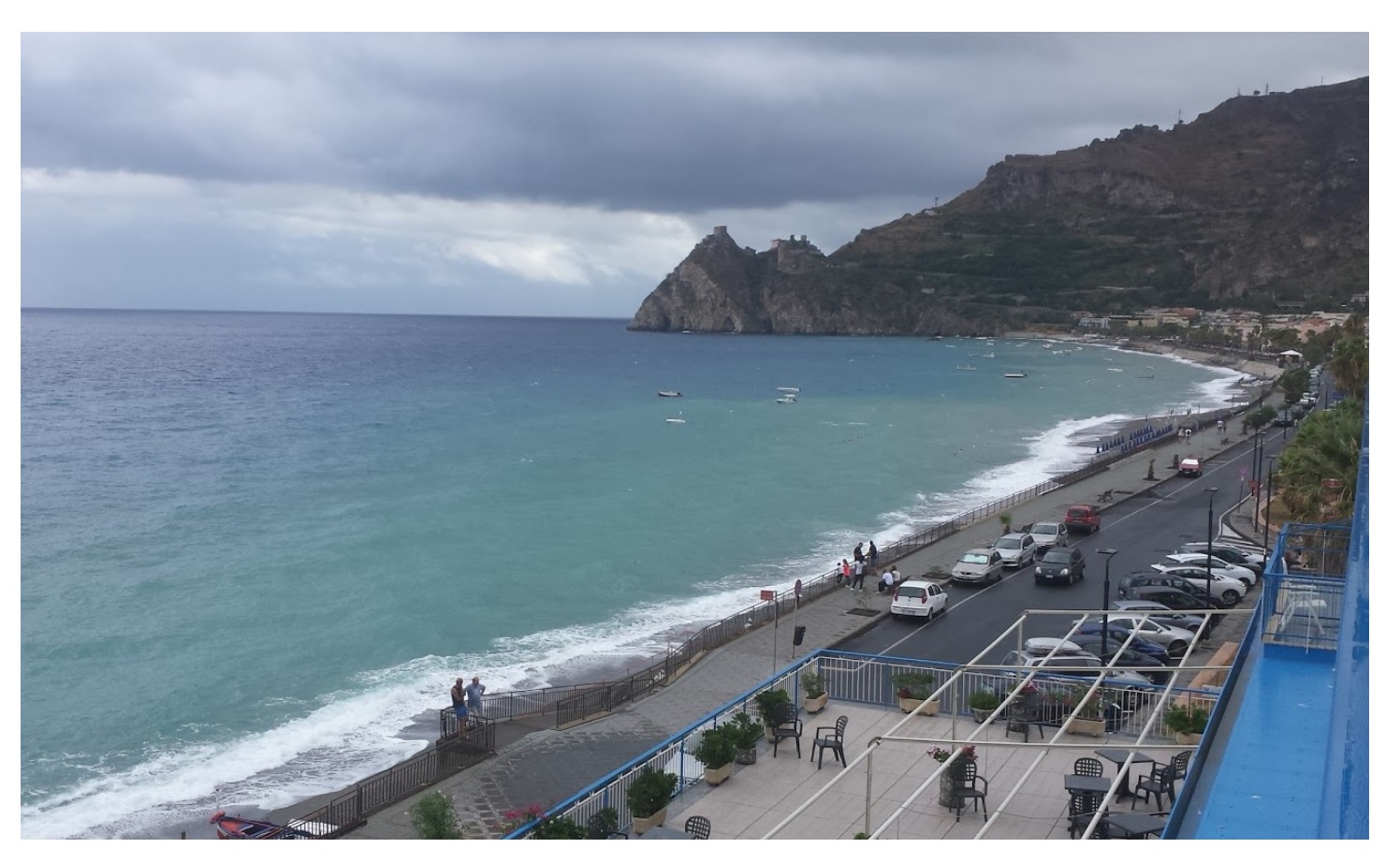 Sant'Alessio Siculo is a city in the province of Messina facing the Ionian sea. It had the name of Arghenrion Akron which after is named "Silver Cape" by Tolomeo Alessandrini.
To the right, the city is delimited by a promontory on which stands the Saracen castle of the twelfth century. The manor has a polygonal plan topped by a cylindrical tower (unfortunately, it is closed to public). Now Sant'Alessio Siculo has become a tourist center, with its pebble beach, and thanks mainly to tourist developments and to establishments that have been realized in recent years.
To the south, it is a succession of rocks and lakes that, in the bay of Salo, realize the ideal habitat of precious fish, especially shellfish. The town still retains elements of particular historical and architectural interest: S. Margherita which distinguishes a barracks Bourbon topped by a Trinacria with the Gorgon's head, surrounded by cornucopias and ears, symbol of abundance and fertility, and with the remains of the apse of an ancient church; S. Alessio old man with a seventeenth-century church of Carmel, the fishermen's church; "U quarteri ì menzu" with its door from the year 1770. Precious and cared for citrus in Lacco district contribute to give in Sant'Alessio Siculo a fragrant setting of adamantine blossom blooming on pristine lemon gardens. Sant'Alessio Siculo has also its folk legends. Mostly it comes to plutonic legends, ie related to "Truvature" or treasures hidden underground, arising from the existence of caves and faults formed at the Cape S. Alessio for the millennial sea erosion and stormwater. Even the piratical activities of time and the same location have contributed to the formation of such legends. Peculiar and delightful fishing for saury which is practiced in the summer.
"Con un mare pulito, fresco e trasparente, Sant'Alessio Siculo ci fa vivere l'estate sulla sua spiaggia dove il sole brucia ma non scotta, a diretto contatto con le vestigia di un antico passato e di un moderno paese che punta ad occupare un rispettabile posto tra le località turistiche più rinomate."
---
How to reach Sant'Alessio Siculo

---
By airplane
The closest airport is Catania Fontanarossa, located about 70KM away from Sant'Alessio Siculo. From the airport it is possible to reach Sant'Alessio in about 50 minutes. Taxi fares from the airport are around 100€. We expect to organize a transfer via some tourism agency.
By Train
Fast trains (Intercity) from Messina or Catania Stations stop at Taormina-Giardini Naxos station (8 Km far from Sant'Alessio). Regional trains stop at Sant'Alessio small train station, which is very close to the congress hotel. Check the trains timetables at Trenitalia website.
By Bus
There are several buses leaving from Catania airport to Taormina, so we suggest to first reach Taormina and then take a train or taxi to reach Sant'Alessio. Info about direct buses to Sant'Alessio will be added here once we get that. Bus website.
By Car
Sant'Alessio can be reached by motorway Autostrada A18 (Messina-Catania), coming from Messina closest exit is Roccalumera (7Km), coming from Catania closest exit is Taormina (7Km).
By Taxy
There are several taxy operators:
RadioTaxy Catania, Catania Taxy, F.lli Gaetano, Sicilia in Taxy, Autoservizi Di Stefano, Catania in Taxy, and others.
---
Leaving to Malta

---
For those who are going to attend the "The Second Malta Conference in Graph Theory and Combinatorics", in order to reach Malta, it is necessary to first reach Catania. There are two journey options from Catania to Malta:
Short flight from Catania Airport to Malta, operated by AirMalta. If you book early, then the cost is quite acceptable. There are two flights per day, one is early in the morning, the other one at night.
Express ferry connection from Pozzallo to Malta, with bus connection from Catania Port, operated by Virtu Ferries. There is one connection per day leaving from Catania Port at 18:30 and arriving to Malta at 23:15.
This work is licensed under a
Creative Commons Attribution 3.0 License
.