Third Workshop on Models, Algorithms and Methodologies
for Hybrid Parallelism in new HPC Systems
sponsored by the Department of Mathematics and Applications - University of Naples Federico II (Italy)
Krakow, Poland, September 6-9, 2015
jointly with the

11th International Conference on Parallel Processing
and Applied Mathematics PPAM 2015

Background

MAMHYP15 is the Third workshop after the first two held in Torun and Warsaw in 2011 and 2013
respectively, jointly to the PPAM conferences. Since then, the development of efficient algorithms
for HPC systems with multiple forms of parallelism, is still a challenging problem.
More precisely, from an architectural point of view, a High Performance Computing system can
be described by means of a hybrid multi-level structure: at the highest level there are
several systems connected among them by geographic networks (System level); an intermediate
level is composed by the nodes in a single system communicating among them by means of dedicated
fast networks or high performance switches (Node level); at the lowest level, finally, there are several
computing elements, computing cores as well as graphic accelerators, sharing resources in a single
CPU (Core level).
These architecture levels have very different features and they require different algorithmic
development methodologies. For such a reason, the development of algorithms and scientific
software for these system implies a suitable combination of several methodologies to deal with the
different kinds of parallelism corresponding to each architectural level. The general aim is then the
development of hybrid and hierarchical algorithms, able to be aware of the underlying platform.
Main problems in this field are the management of large parallelism degree due to several
computing units, the heterogeneity of these devices and the combination of the several kinds of
parallelism in a single algorithm. These topics are mainly investigated also to gain the so called
exascale performance, and, from another side, the high performance cloud computing, with regard
to the so called Internet of Things and its interaction with HPC.

This workshop focuses specifically on Models, Methodologies, Algorithms and Environments to
exploit all forms of parallelism and their combination at the all levels in the emerging HPC
multicomputers, with the goal of gathering the current state of knowledge in the field.
Program (monday, september 7.)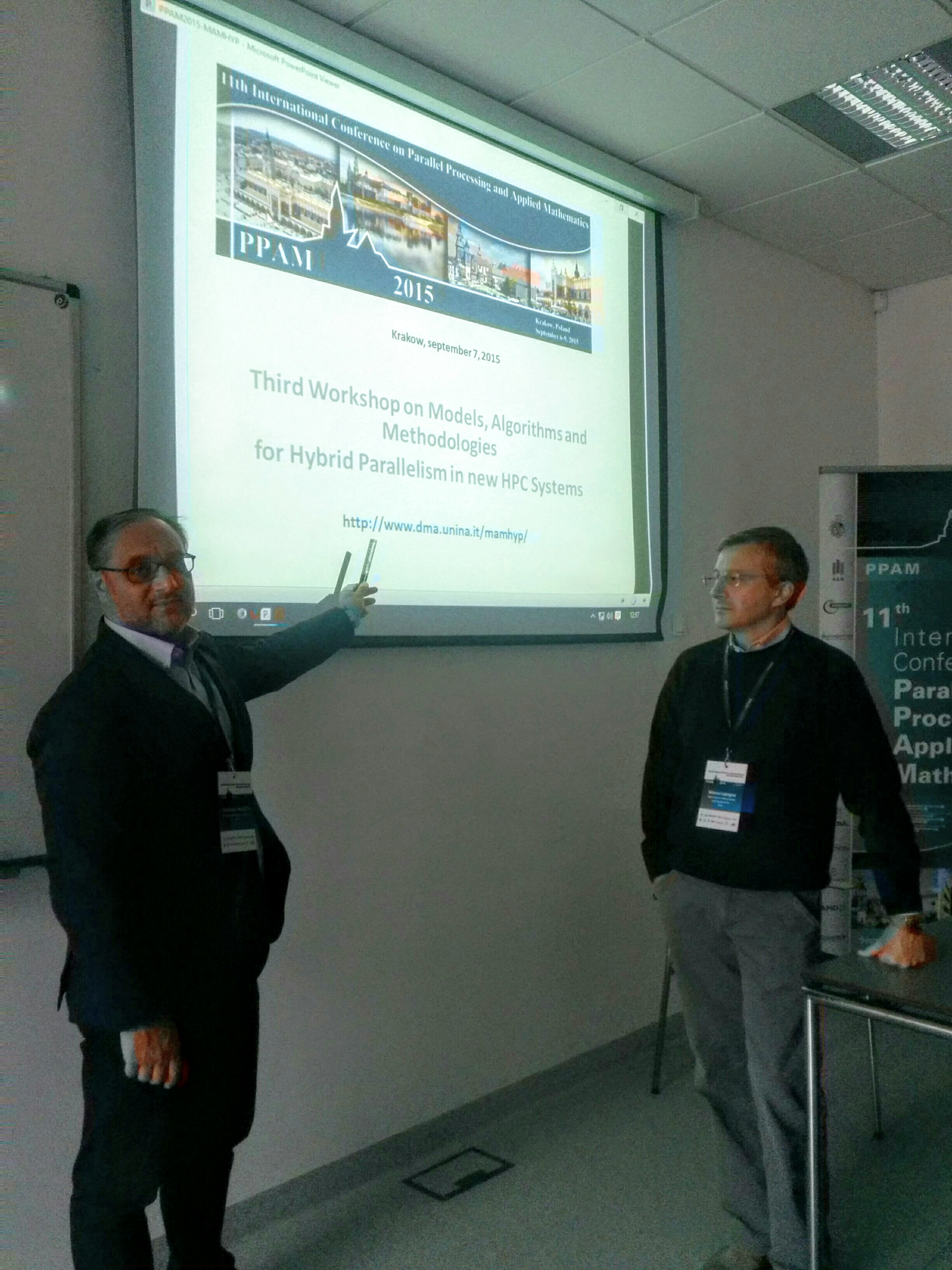 Prof. Laccetti and Lapegna introduce the workshop
Introduction
Virtualizing CUDA enabled GPGPUs on ARM clusters
R. Montella, G. Giunta, G. Laccetti, M. Lapegna, C. Palmieri, C. Ferraro and V. Pelliccia
A Distributed Hash Table for Shared Memory
W. Oortwijn, T. van Dijk and J. van de Pol
Mathematical Approach to the Performance Evaluation of Matrix-matrix Multiply Algorithm on a Two Level Parallel Architecture
L. D'Amore, V. Mele, G. Laccetti and A. Murli
How to mitigate node failures in hybrid parallel applications
M. Szpindler
A Scalable Numerical Algorithm for solving Tikhonov Regularization Problems in a large scale application
R. Arcucci, L. D'Amore, S. Celestino, G. Laccetti and A. Murli
Paper Submission and Publication
All rules of paper submission of the PPAM conference apply. In particular:

Papers will be refereed and accepted on the basis of their scientific merit and relevance to the
Workshop topics.

Papers presented at the Workshop will be included into the conference proceedings and
published after the conference by Springer in the LNCS series.

Before the Workshop, abstracts of accepted papers will be posted on this site.

Authors should submit papers (PDF files) using the online submission tool

Papers are not to exceed 10 pages (LNCS style)

Final camera-ready versions of accepted papers will be required by November 15, 2015.

Dates

Submission of Papers: May 11, 2015 (extended!)
Notification of Acceptance: June 20, 2015
Conference: September 6-19, 2015
Camera-Ready Papers: Nov 15, 2013


Session Organizers

• Giuliano Laccetti (Univ. of Naples Federico II and INFN) giuliano.laccetti@unina.it
• Marco Lapegna (Univ. of Naples Federico II and INFN) marco.lapegna@unina.it
• Raffaele Montella (Univ. of Naples Parthenope and Univ. of Chicago) raffaele.montella@uniparthenope.it

Program committee
- Alfredo Buttari, CNRS (National Center for Scientific Research) , France
- Jack Dongarra, University of Tennessee and Oak Ridge National Laboratory, USA
- Ian Foster, Argonne National Lab, USA, and University of Chicago, USA
- Florin Isaila, University Carlos III, Madrid, Spain
- Giuliano Laccetti, University of Naples Federico II, Italy, and INFN (Nuclear Physics National Institute), Italy
- Marco Lapegna, University of Naples Federico II, Italy, and INFN (Nuclear Physics National Institute), Italy
- Paul Messina, Argonne National Laboratory, USA
- Raffaele Montella, University of Naples Parthenope, Italy, and University of Chicago, USA
- Almerico Murli, CMCC (Euro-Mediterranean Center for Climate Change), and SPACI (Southern Partnership for Advanced
Computational Infrastructures), Italy
- Guido Russo, University of Naples Federico II, Italy, and INFN (Nuclear Physics National Institute), Italy

Special Issue of International Journal of Parallel Programming
The authors of the papers presented at the workshop, as well as all the interested scientists through an usual Call for Papers, will be invited to submit extended versions of their work to special issue of the prestigious journal "International J. of Parallel Programming"
<![if !supportLineBreakNewLine]>
<![endif]>